If you are looking for the best walkie talkie for skiing, then you've come to the right place.
With hundreds of hours of research into what makes walkie talkies good for skiing and also the challenges that skiing presents that walkie talkies solves (communication problems), we have put together tips and also walkie talkie recommendation for skiing.
The Motorola T605 Talkabout, is the high end walkie talkie on the T series of walkie talkies.
Now, the Motorola T605 will give you about 2-3 miles of range in the woods when skiing and upto 6 miles out at sea.
When the Motorola T605 Talkabout is put on a mountain with the other guys on another mountain with unobstructed line of sight, this walkie talkie may go upto 4-5 miles.
This walkie talkie can be charged using a mobile phone cable, so with that said, a powerbank can be used to charge these.
The Motorola T605 can and will float in water and can also be submerged for upto 1 meter in depth of water.
First thing users mentioned is how these walkie talkies last a good 10 hrs in terms of battery life, users mentioned how the walkie talkie feels solid and was not damaged after it fell in water and it in fact floated.
Check out the Motorola T605 Talkabout on Amazon
The
Midland GXT1000VP4 has been overall one of the best walkie talkie on the market in all catergories suck as skiing, hiking, cruising and other users.
In terms of user reviews positivity, the GXT1000VP4 has to be the walkie talkie that has received very good reviews.
This walkie talkie meets all the criteria that makes good walkie talkie for skiing.
The overall appearance of this Motorola GXT1000VP4 walkie talkie screams toughness and it has lived up to it's appearance.
To be honest, range of upto 5 miles in the woods (should be expected), this should give you enough range for skiing (unobstructed line of sight should give upto 35 miles in perfect condition)
Battery of upto 11 hrs, should give you alot of time to enjoy skiing while keeping in communications with team members.
This two-way radio, can fall into a puddle and not get damaged as the GXT1000VP4 is waterproof.
Check out the Midland GXT1000VP4 on Amazon
This one has also been a best seller in its category because most users have been satisfied with it and has since then boosted its sale.
This arcshell walkie talkie is small and convenient in size.
In terms of range, this device will get you up to 5 miles in terrains and 10 – 20 miles in clear line of sight.
It is water resistant and should work fine even if splashed with water.
The sound that comes out of its speaker is loud and clear, this should be a good choice for outdoor activities.
Best of all, it is really affordable.
Check out the Archshell walkie talkie on Amazon
Ansoko walkie talkies are very solid and durable, you can drop them hard on the ground and it won't break (not easily).
They have a surprisingly clear and loud sound output from the speaker.
A challenge that two-way radio users face is having to hold onto large walkie talkies, well, the size of this one is greatly reduced to help with the ease of handling.
The LED light it has is what the others do not have, this could be useful for maybe when its dark and you want to use it as a flash light.
Check out the Ansoko Long Range walkie talkie
Verdict
All of the walkie talkies that I have written about above is the best in the category of two-way radios for skiing.
So, if you are planning to get a walkie talkie for skiing, then pick one from the above.
But in our opinion, the Motorola T400 surpassed them all in terms of range, performance and especially since it can be charged using a standard USB cable and because it can be used with a repeater.
It also has a simplistic design with a solid feel to it.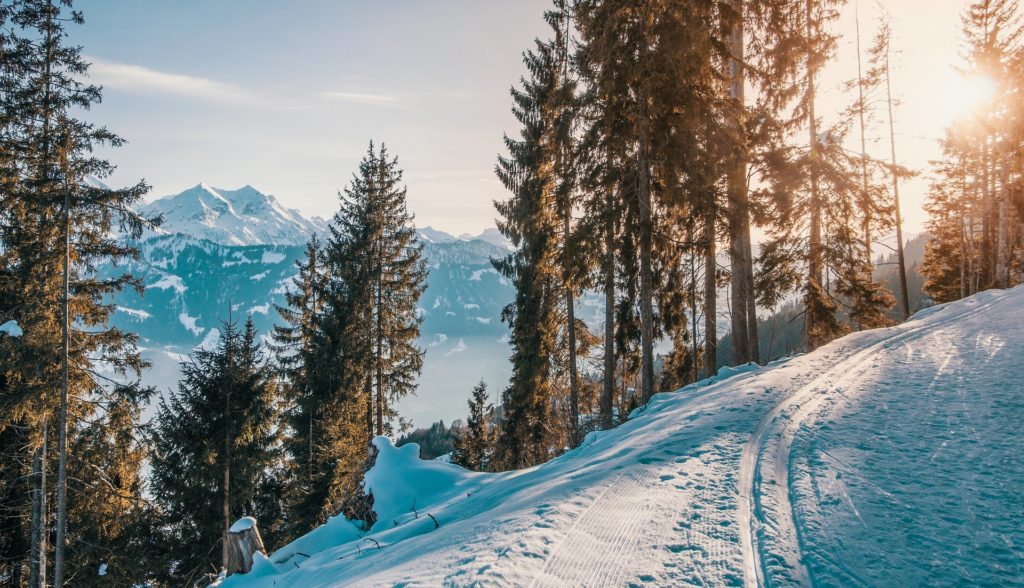 Things to consider when buying a walkie talkie for skiing.
Skiing can come with all sorts problems especially if you are beginner at skiing, when out skiing, you will need a good communications device this will keep you from being separated out there in the woods,
A good walkie talkie will keep you in contact between parties and persons, whether it be family, friends or coworkers.
And also, in an event where you will need emergency evacuation, you can also contact people within the vicinity.
Bad weather can also be a hazard to skiers, modern walkie talkies come with a feature that lets you receive weather update in your area, this should help you stay out of bad weather.
Experienced skiers will tell you to stay out of storms, a walkie talkie with the NOAA weather update will help you with that.
Range
A walkie talkie with a good range should be on your list, something that will let you keep in contact for up to 5 miles.
Although you are not going to be separated for more than 1 mile with your skiing partners, it is still best to get a walkie talkie with the farthest range possible for safety reasons.
Using a Powerbank
Alot of the walkie talkies on the market can be charged with a USB cable that mobile phones use and can also be charged with a powerbank, for more safety it is recommended that a powerbank be used with the walkie talkies.
Good battery life
A walkie talkie with a battery life of at least 8 hours and a standby time of 12 hours on full use should be good.
Mic and Headphone jacks
When skiing, simply plug on the earpiece and use it without having to hold the walkie talkie, pick a walkie talkie that has mic and earpiece connection.
Noaa weather alert
This feature is a must have if you are looking for the best walkie talkie for skiing.
NOAA weather alert is a series of regular alerts that the US government weather branch sends out to different areas, walkie talkies with this feature will pick up these weather alerts (it should help you stay out of bad weather)
Weight and size
It is preferred that you get yourself a walkie talkie that is not too bulky or heavy, something that with good performance, is also small in size and is also light weight.
Weather proof
Since you will be exposing yourself to the elements, during the ski, get a walkie talkie that is water proof or water resistant at least.
Price
I recommend that you spend your money buying a high-end product as a good walkie talkie device will keep you in communications and will also be a life saver in times of emergencies.